We want church to be a place where your entire family can grow closer to Christ! We offer classes for infants, toddlers, preschoolers and elementary age children during any weekly service. With an emphasis on teaching Biblical foundations in a fun and engaging environment, we want to partner with families to help their children learn to love Jesus and follow him!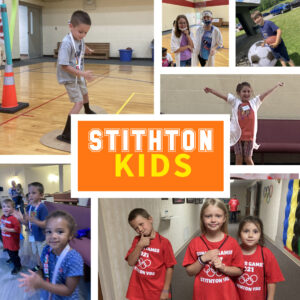 Weekly In-Person Classes
We will be following safety guidelines including encouraging mask, frequent hand washing, and social distancing. We want to do everything we can to keep your family safe as we teach them about this amazing God that we serve!
In the meantime, we are not gonna let this crazy world stop us from praising Jesus! We fully respect each families need to decide what is best for their household. We will continue to offer online options. Parents are welcome to keep their children with them or choose to take advantage of our amazing Kids Ministry In-Person classes.
Join us for weekly in-person classes or online!
Children Birth to 3 Years
We offer nursery for families any time we have services. Care is provided by paid staff and volunteers who have received specialized training in infant and toddler care as well as safety and
sanitation
guidelines. All caregivers over the age of 18 have been thoroughly screened and received a background check.
Preschool through 5th grade
We have in-person classes for Preschool and Elementary age kids. These are bible based, age appropriate lessons. Join us as we dig deeper into God's Word in a smaller group setting.
Children's Church:

Sunday mornings @ 10:45am
Large group lessons for Preschool through 5th grade kids. We have a time of worship, Bible Study, hands-on activities and games. Each activity correlates with the weeks lesson and points the kids to Jesus in a fun and engaging way. We strive to teach kids to directly apply God's Word in their life.
Monthly Activities
SIS: She is Strength
is a once a month club designed to teach girls life skills and empower them to be smart, vibrate, loving, compassionate Women of God. For girls 8 to 18.
KOZ: Kids Outdoor Zone is a once a month mentoring program to teach outdoor wilderness skills such as archery, fishing and hunting. For boys 8 to 18.
CONNECT WITH US
Follow our social media outreach and stay connected with the latest updates, newsletters and ministry events.
Contact Our Ministry DIrector
Kandice Rice
(270)352-7023
email: children@stithton.org
Office Hours: M-F 8:30-4:30