We want church to be a place where your entire family can grow closer to Christ! We offer classes for infants, toddlers, preschoolers and elementary age children during any weekly service. With an emphasis on teaching Biblical foundations in a fun and engaging environment, we want to partner with families to help their children learn to love Jesus and follow him!
COVID-19 update: SBC Kids is doing everything we can to share Jesus and support families during these trying times! We've been working hard with the local schools and other organizations to make sure kids in our area are having their basic needs met. If you know a family needing help please reach out at 270-352-7023 and we can help coordinate efforts.
Weekly Classes
Due to COVID19, our weekly in person classes are suspended. We can't wait to get back into the regular swing of things and see your beautiful faces!
In the meantime, we are not gonna let this crazy world stop us from praising Jesus!
Join us for weekly online activities!
Sunday Church:

Sunday @ 10:30am
We are sending out a weekly video and activities through Facebook and Email each Sunday morning. There is a lesson video, worship songs and fun printable activities for kids to do at home. No printer? No problem! Call or text Kandice at 270-352-7023 to get added to the weekly packet mailing list
.
Sunday Night AWANA: Sunday @ 6pm
We offer Awana for Preschoolers through 5th grade. This is a zoom conference call where we have a lesson, work on memorizing scripture, sing songs and play games. Call or text Kandice at 270-352-7023 for the zoom meeting ID and password.
MID-Week Truth Seekers: Tuesday @ 4pm
Join us for a fun object lesson, games and worship! We will do activities that each kid can do from home with common supplies on hand!
Check out our Stithton Kids Facebook group for more fun activities and information.
Volunteers:
Your kids will be treated like family! Safety is our upmost priority! All volunteers working with those under 18 will be screened, background checked and trained annually.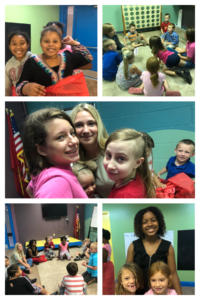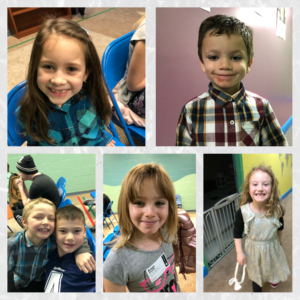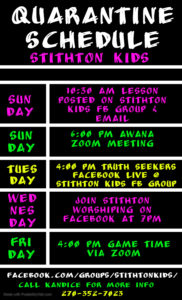 CONNECT WITH US
Follow our social media outreach and stay connected with the latest updates, newsletters and ministry events.
Contact Us
Stithton Baptist Church
95 Park Ave.
Radcliff, KY 40160
(270)351-6055
email: churchmail@stithton.org
Office Hours: M-F 8:30-4:30